Has anyone seen October?
I blinked and I think I missed it!
Things have just been CRAZY busy!
And now, it's NOVEMBER already!?!?
That means it's time for Currently!
I am hooking up with Farley over at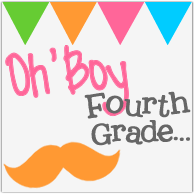 for this month's Currently.
Although it is technically fall, and the nights are cool, we are going to be in the 90's again this week! UGH! I want it to cool down!
I worked in my classroom this morning on lesson plans and grading, but realized when I got home that I forgot to get a place ready for the new kiddo who starts tomorrow. Guess I'll have to get there extra early to get ready for him.
I don't know what happened to October. It seems to have passed me by in a whir. We have been really busy in the classroom and I have lots of things to post, but I just have not had enough time!
Can't wait to see what everyone else is Currently up to!
Monster Mischief
We have been working on monster themed activities all month, reading about, writing about, and creating and trapping our own monsters.
Here are a few of their Monsterific Creations...
Next, we wrote descriptions to identify our monsters. They had to focus on attributes and identifying characteristics, and could not use any color words in their descriptions. I will have to scan and post their descriptions and see if you can match them to their monsters later this week.
We incorporated our monster studies into Red Ribbon Week.
After all, even monsters say NO to drugs!
On Friday the kids played
a math game that I made. It is available in my TPT store by clicking on the image.
We also worked on writing about monsters with the following files from my TPT store...
We also worked on Monster Limericks which I will post later this week.
On of my favorite things to do in October is fluency practice.
I ♥LOVE♥ the following books for this!
Here are some pics of the kids reading together...
Tune in tomorrow to see the kids' AMAZING Monster Traps!