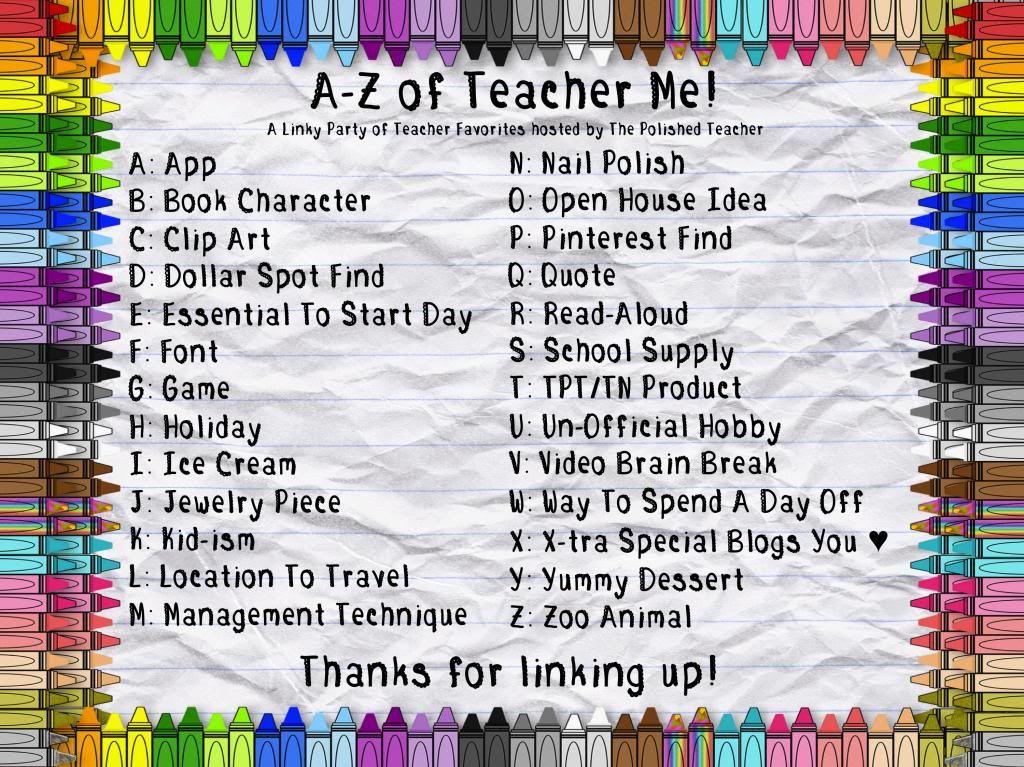 hosted by
1. Add the A-Z of Teacher Me image linking back to this post.
2. Add my blog button linking back to my blog.
3. Follow Farley's rule of 3 to share the love.
(Comment on the 2 linked up before and the 1 after)
4. Share as little or as much as you like!
5. Have fun and meet new friends!
A: App
My favorite app is my Navigator. I love not having to worry (much) about where I have to go.
B: Book Character
Mandy from the book by the same name. It is written by Julie Andrews Edwards and is my all-time favorite book.
C: Clip Art
My faves are The 3 AM Teacher, KPM Doodles, Thistlegirl, and Melonheadz.
D: Dollar Spot Find
$1 frames for class projects/gifts and playing cards - 2 decks for a dollar - a score for math class!
E: Essential To Start Day
2 Vanilla Coke Zeros before I even leave the house!
F: Fonts
Too many favorites to mention. I am a font junkie (I know, surprising, huh?) I have over 2000 fonts!
G: Game
Solitaire is my go-to down time game.
H: Holiday
Thanksgiving - food and family without all the craziness.
I: Ice Cream
Baskin Robbins' Baseball Nut
J: Jewelry Piece
My wedding ring and my grandmohter's engagement ring
L: Location To Travel
Anywhere warm, but not too hot, and sunny, preferably the beach or on a cruise.
M: Management Technique
Organization - a place for every thing and everything in its place.
N: Nail Polish
Fun and flirty! Here's what I have now...
I love finding ideas on Pinterest and I'm currently looking for one for St. Patrick's Day.
O: Open House Idea
Informal - just come and hang out, take a look around and get a "feel" for things. I do not like a formal open house.
Q: Quote
Not to know is bad, but not to WISH to know is worse. - West African Proverb
R: Read-Aloud
Currently reading aloud Homecoming by Cynthia Voigt.
But have also read
The Tiger Rising by Kate DiCamillo
The Cay by Theodore Taylor
Pinballs by Betsy Byars
and The Memory Bank by Carolyn Coman
U: Un-Official Hobby
I love to read, but Pinterest has become my Un-Official hobby of late.
V: Video Brain Break
Really don't have a favorite, but I am partial to flash mobs.
W: Way To Spend A Day Off
Reading curled up in a blanket on the couch (with NO ONE home but me!)
X: X-tra Special Blogs You

♥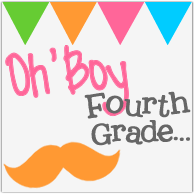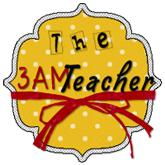 I COULD list ALL of you! I just love seeing all the cool things going on in your classrooms!
Y: Yummy Dessert
Red Velvet Cake
Z: Zoo Animal
The lions - they are strong and ferocious, but always napping when I am around. I just want to join them!