I don't know about you, but I sure was ready for Spring Break to roll around!
I am getting some much needed rest and catching up on my blogging.
In the last year since I started blogging,
I have grown a ton as a teacher
thanks to all of the ideas floating around blog land.
I have met some of the most AMAZING people, and made some wonderful new friends.
I would like to show a couple of them some bloggy love,
So I am linking up with Christina Bainbridge over at
For her
you brighten my days and my my teaching easier in so many ways!
I just ♥ you!
Besides being my go to girl for clip art, her inspiration and technology savvy
astound and amaze me!
I look forward to her posts and cannot wait to see what she comes up with next!
I absolutely adore these kite sets that she made especially for me!
Today I bought these for an new idea I have.
Head on over and check out her blog awesomeness!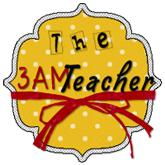 Another blogger whom I adore is
She has some incredible ideas!
I loved her Book Buffet Book Reports!
Check out my post here to see what my kids came up with!
I have also used her Writing Dialogue sets - Love 'em!
and this FREEBIE
She is so creative, and I love not having to recreate the wheel!
So what are some of your favorite blogs?