This is kind of how I feel right now...
It's been one of those weeks years!
This is the roughest year I have ever had,
and I am feeling more than a bit beaten down lately.
I love teaching and inspiring students to do more than they think they can.
I am very passionate about what I do,
and I love sharing that passion with others.
But for me this year has been one struggle after another.
My kids this year (most, but not all of them)
are rude and disrespectful, especially to each other.
They do not listen and are content to do the very least
amount of work possible to just squeak by.
I have tried everything.
Nothing seems to work.
And I am feeling battered.
That's a big reason that I have not blogged as much as I would have liked.
Not much fun to share.
I continue to create in the hopes that SOMETHING will spark them,
but in our remaining 9 days I don't have much hope.
Don't give up on me!
I'm still here, still passionate about teaching, and still creating.
I just needed to vent a bit.
I am going to try to get caught up on my
Book a Day posts and get back in the groove.
So without further ado,
Day 6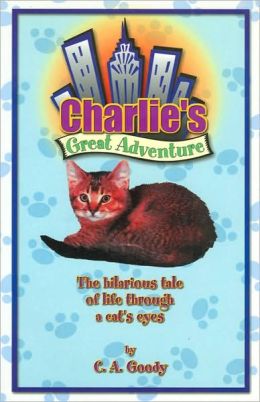 C.A. Goody is a local author here in Phoenix,
and has been a favorite with my students for several years.
I have had the extreme pleasure to have her
come to my schools in the last few years.
She always brings Charlie with her!
C.A. Goody and Charlie live with their family outside Phoenix Arizona. Mrs. Goody's first book, Charlie's Great Adventure, took her as much by surprise as it takes her readers. The story was inspired when Charlie, who rarely left the yard and was outside only about an hour each day, suddenly disappeared. He was turned in to the local Humane Society five days later, having been found twenty miles from home. Soon after, as she sat petting Charlie, Mrs. Goody was wishing Charlie could tell her where he had been, and what had happened to him during his absence. She sat down to write a short story for her children about what Charlie had been up to, and the first book in the series was born.
Many parts of the story are true, including Charlie's hatred of riding in cars (he will yowl constantly until you let him out), his love of music and chasing flashlight beams, his ability to hug the people he loves, and his refusal to let the technician at the Humane Society give him any shots. The book was so well received by local children that Mrs. Goody began writing more stories about Charlie. She has many more story ideas, as Charlie continues to inspire new adventures on a daily basis.
Charlie is a cat and all of her books are told from Charlie's perspective.
Great for teaching point of view!
There are now 8 books in the series,
and your kids will L♥ve them!
Day 7
This is one of my favorite projects that I have done with my students!
When I discovered this book, I knew I wanted to use it in my classroom.
The first year I made the student's work into parent gifts for Christmas.
Then I added a class book to the project
(which I had made at Snapfish.)
Many of the parents bought copies of the book and I treasure mine, and look back at it often.
Favorite book I've made with my class!
You can find all of my Book a Day recommendations below.