Got this idea from Jen Runde over at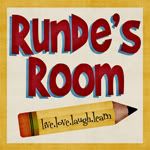 Students work independently on a post it,
and then come together to determine the
BEST ANSWER.
I used her idea for a few different things.
The first time was as we were finishing up our
Weather Unit
in Science.
When the kids came in, they each got a playing card.
These were mixed up and in no particular order.
I had selected cards so that there were just enough
for each student to get one,
and for groups to be evenly distributed.
We had just finished learning about the layers of the atmosphere.
Each student also received a large post it note.
What they had to record depended on which suit they got on their playing card.
(Don't judge! I cannot draw for beans!)
On their post it they had to include all of the important
information about that layer of the atmosphere.
Once they finish those, they got together
with the other people that had the same value card
(all the 7s together, 3s together, etc.)
They were to work together to make sure that
EVERYONE
had all the correct information for their layer of the atmosphere.
If someone left something out,
they were supposed to help that person
get all the info down.
Next, they worked together to make a poster about
the layers of the atmosphere.
EVERYONE had to contribute.
They were each responsible for their layer,
but TOGETHER they had to make sure that their poster
had all the necessary information.
Some were successful at this, and some, not so much.
Here are a few of their posters...
(Their post its were on the back.)
For Math, we used this same process
to work on multi-step problem solving
and order of operations.
I wanted to help make sure that everyone was going
through all of the steps in the problems.
The each got a copy of the problem
and an index card to work it out on.
Then they got into their groups to make sure that
everyone was on track with solving the problem.
We did order of operations too,
but I didn't remember to take pictures.
For today's book I want to share a book I found last year
that has definitely become a favorite read aloud with my kids.
Hope knows that she HAS to find her sister again, before her memories of Honey fade. But before she can even begin to look, she's whisked away to the World Wide Memory Bank, where her accounts are in disarray...
My kids l♥ved it and begged me to keep reading every day when I tried to stop!
Do you have a favorite read aloud?
I would love for you to link up and share!