On Friday, some teacher friends and I were invited for a tour of the
I had never been before and was excited to visit.
The focus of the SeaLife Aquariums is
BREED - RESCUE - PROTECT.
They run global breeding programs for 13 species of endangered rays as well as the largest seahorse network in the world.
They rescue hundreds of sick and injured seals and turtles every year and rehabilitate them so that they can return them to the wild whenever possible.
Lastly, they campaign for marine protected areas to be set up across the globe.
Their goal is to instill kids with a passion for the underwater world and a desire to maintain and protect it.
The first thing we checked out was the classroom.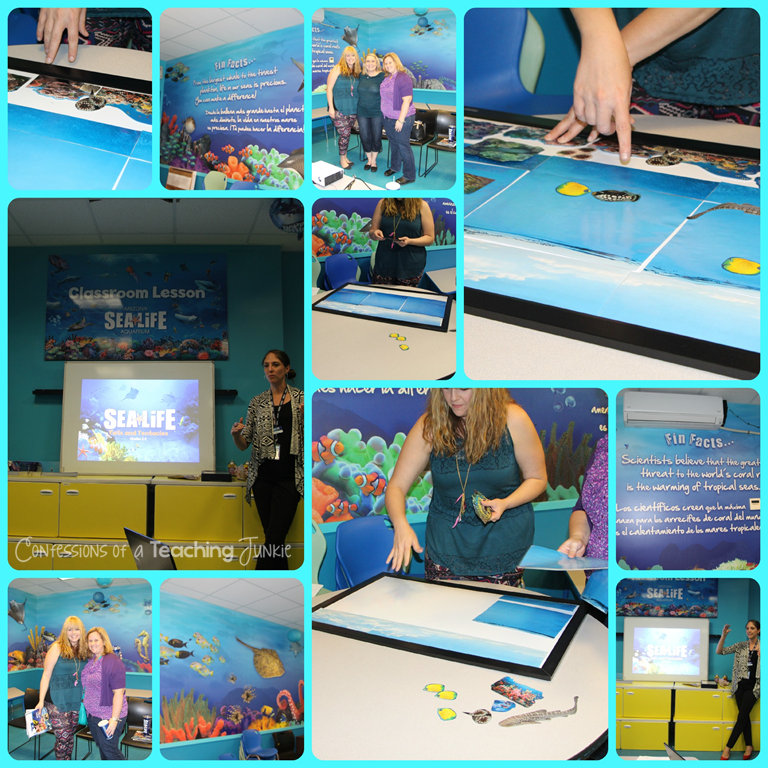 When you take your class there, there is an option for lessons.
Lessons run about 30 min. and are VERY interactive.
In the photos above, we were working on the Coral Connections lesson.
Here's what the lessons entail...
Coral Connections
Kindergarten - 1st Grade
Learn about the inhabitants that live within coral reefs, and work with your class to build your own coral model!
Tails and Tentacles
2nd - 4th Grade
Explore different underwater habitats and the adaptations that animals have made to survive in these environments. See how many habitats you can find as you walk through the aquarium after your lesson!
Ocean Ambassadors
5th - 8th Grade
Investigate marine ecosystems and the impacts that harm them. Work together to create solutions to protect these precious environments!
There are Educational Resource Packs and PowerPoints available for download from their website to use before your visit to prepare students for the content they will encounter at the aquarium.
Check out the Resources
here
.
Next, we got to go "behind the scenes."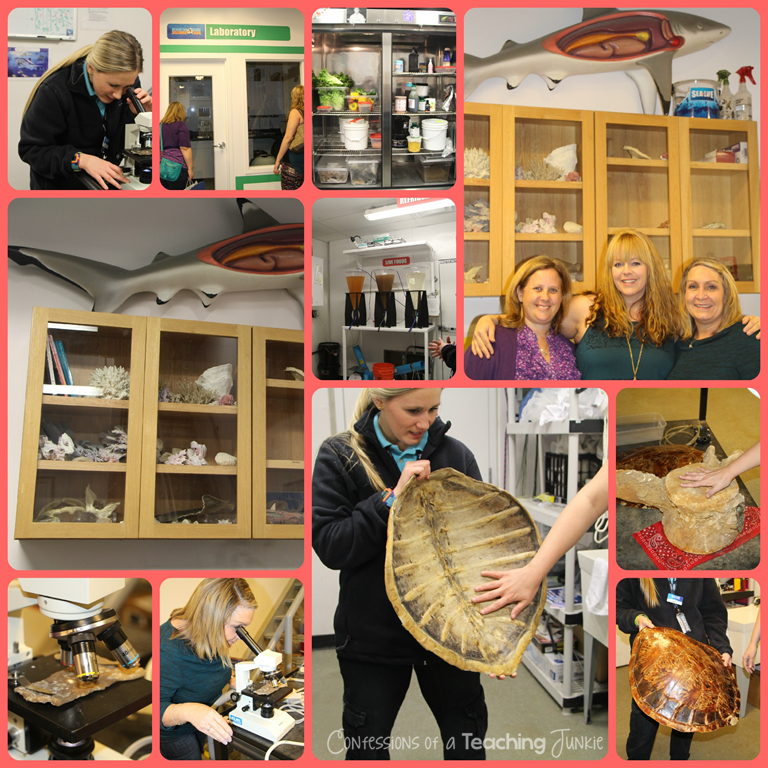 In this add-on for your aquarium experience, you get to see where the aquarists work and what goes into taking care of all the marine life.
Next we headed into the aquarium itself, starting with the tide pools and touch tanks.
There are so many cool things to look at in the aquarium and all kinds of information posted to help students learn about marine life.
It was a fabulous opportunity to get a behind the scenes look at this great educational resource in our community.
If you live in the Phoenix area, They are having a free Teacher Open House.
Teacher Open House!
Preview the new education lessons and experience SEA LIFE Arizona before you book a field trip
February 20, 6:30 - 8:30pm: We are closing the aquarium early to the public and staying open late just for teachers! Teachers can bring one additional free guest to tour the aquarium, see the new lessons, and have a relaxing evening under the sea! Teachers should RSVP at azgroups@sealifeus.com
February 21, 10am - 2pm: Teachers can visit for free, and bring additional family and friends for just $10 each plus tax. Lesson previews will be available from 10:00am - 2:00pm, but the admission discount is valid all day. RSVP not required.
Teachers need valid school ID to get in free.
If you don't live in Arizona, visit their website to find the location nearest you.
Check it out! You won't be disappointed!