Welcome back for the Mindsets in the Classroom book study for Chapter 7. As the mother of two "gifted" children, this chapter was very eye-opening for me.
The National Association of Gifted Children has concluded that one of the main reasons that barriers to participation in advanced programs exist "is due to a conception of giftedness that emphasizes and values only already developed ability." The process often fails to identify children who are less likely to live in a literacy-rich environment where reading, writing and language are considered important for academic success. But some otherwise capable kids may not be able to demonstrate their advanced learning potential on tests or performance assessments until after they have access to challenging curriculum and enriched learning opportunities.
Consider this: Are students in your school or district allowed these enriched opportunities if they do not exhibit already developed abilities?
Working primarily in Title 1 schools, I have definitely seen evidence of this.
In this chapt
er, Ricci cautions against the use of the term "gifted" because it often manifests a fixed mindset in the students. " To the extent that young people believe they simply have a gift that makes them intelligent or talented, they may not put in the work necessary to sustain that talent, moreover, the gifted label may turn some children into students who are overly cautious and challenge-avoidant."
All children possess gifts and/or talents in a variety of traditional and nontraditional areas.
Rather than using the term "gifted," consider instead word or phrases like high-potential learners or highly motivated. Since all students have potential that needs to be encouraged, overuse the word potential instead of the word gifted.
Chapter seven also cautions against early ability grouping because of the negative messages that may be conveyed to those students not in the "high" or "accelerated" groups.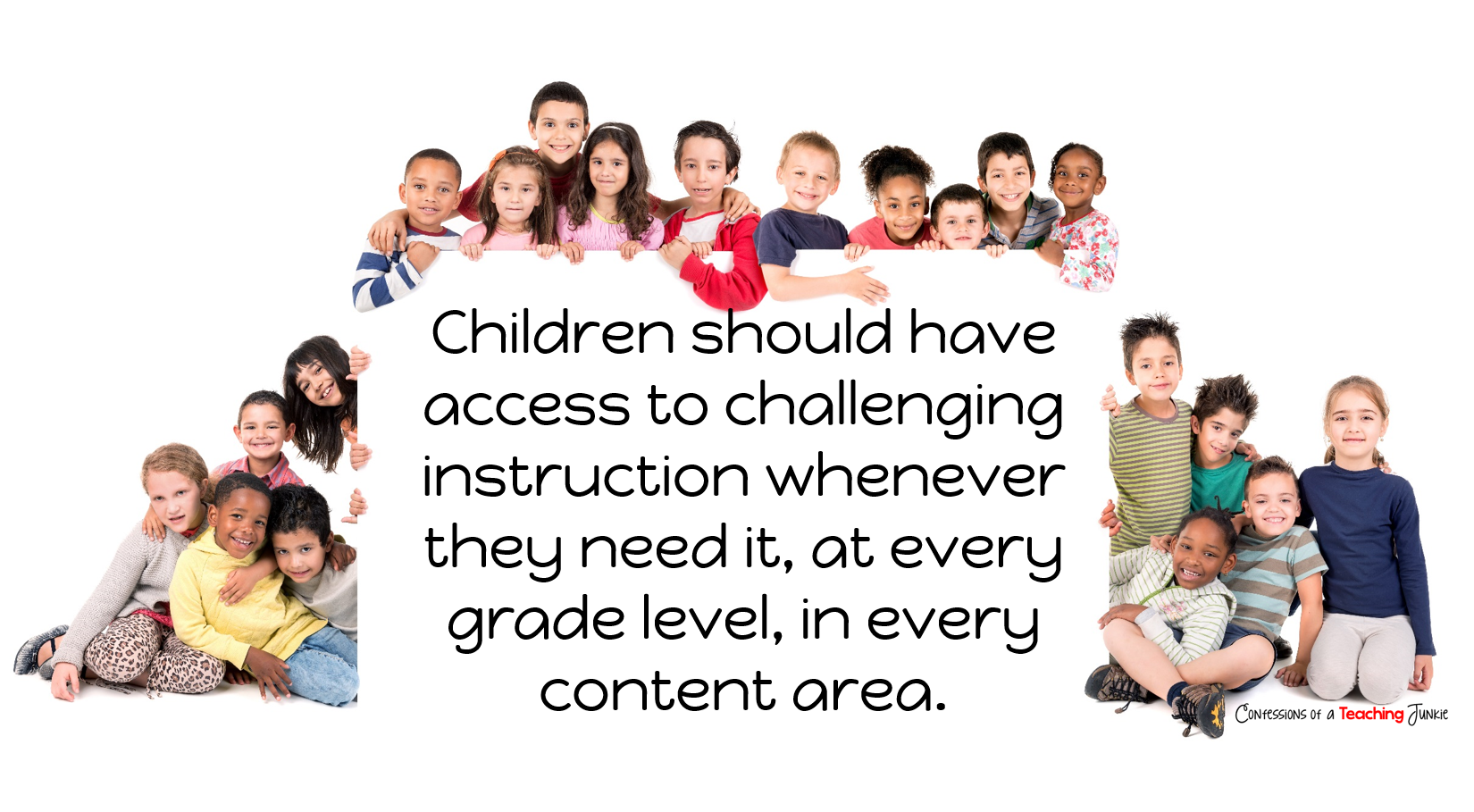 At the elementary level most students' need can be met in responsive, differentiated classrooms with flexible instructional groups. At the middle school and high school levels instructional choices should be available such as standard and advanced, accelerated, enriched or honors courses.
Finally, the goal of all education should be developing the instructional philosophy that addresses the needs of our most advanced learners while allowing access to enriching instruction to ALL learners.
I hope that you are following along with our book study. If you are just joining in, you can go back to the beginning here. Better yet, we would love to have you join in with us. It's not too late! Start at the beginning or jump in now. There are prizes to be won! For links and resources, check
out and follow my Pinterest board.
Follow Confessions of aTeaching Junkie's board Mindsets in the Classroom on Pinterest.