Welcome back to the Weekly Summer Link-Up!
In case you missed last week's posts about summer goals,
you can check them out
here
.
This week, we are all about what brought us to blogging and how we got started.
For me, I have to go back about 11 years to 2004.
I had been, for many years, active on all sorts of teacher bulletin board platforms like
ProTeache
r and Teacher Vision. I loved "talking to" and getting to know other teachers from around the country and some from around the world. It was a very interactive way to see what was going on in education and in classrooms outside my own classroom and district. I had just started with a new district and had the opportunity to take a class on website design. Through the class and afterwards, I created my own site and bought the domain and
Welcome to the Pond
was born. Back then, my classroom theme and decor was all about frogs. Heather Renz from
Mrs. Renz's Class
and my dear blogging buddy Lorraine from
Fabulous 4th Grade Froggies
were friends "back in the day."
This became my place to share with others what was going on in my classroom and build a network of collaboration and sharing of ideas and resources. I loved posting and maintaining the site and showcasing my students' work.
After a few years though, and even though the district had supported the building of my site, the district changed platforms and I was no longer allowed to maintain the site, post pictures of my classroom or students or mention my school or district in any way. I was very frustrated by this, but I took down the site to avoid having to deal with the district looking over my shoulder and telling me what I could or couldn't post.
About this time, Teachers Pay Teachers was getting started, and I began to post my resources there. New relationships and connections blossomed, and I was introduced to blogging.
Finally, I had found another way to share my passions (and addictions) with fellow teachers!
And so, Confessions of a Teaching Junkie was born.
It has been through a couple of rebirths.
I started out with a free template from blogger.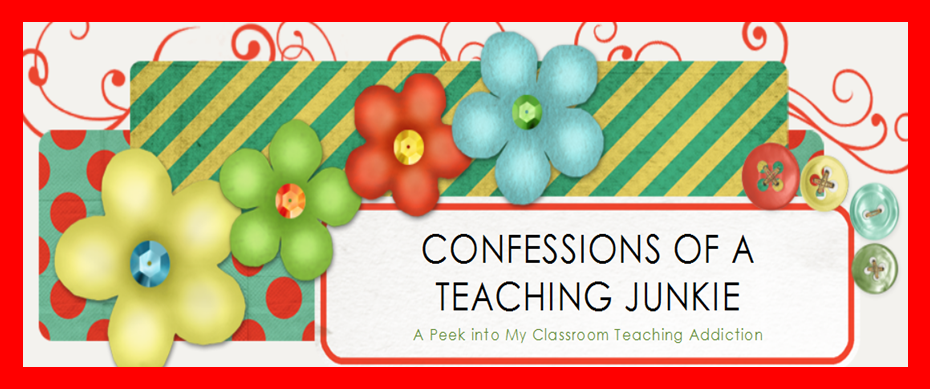 After a bit, I hired Dreamlike Magic to give it some new life, and this became the new design.

I really liked it and kept it for quite a while,
but it just was never ME.
I finally had the good sense to hire the AMAZING Michelle from
The 3AM Teacher
.
Michelle worked with me to create a design that was unique and truly represented ME.
And that is how the current Confessions of a Teaching Junkie came to be.
It is still my place to share and collaborate with other teachers, and to showcase the fabulous work done by students in different classrooms. It is the place whare the teacher ME lives and breathes.
Are you a blogger too, or do you have favorite blogs about which you are curious about their beginnings? Head on over to
I Heart 3rd Grad
e and find out how others got started.
Don't forget to share some lovin' along the way. We love comments!